Having trouble deciding on the perfect hiking gift for him? I find it really difficult to pick out gifts for other people – will they like it? Will they use it? Will they think I'm weird for gifting this?!
I know, I know, I'm probably way overthinking it. But my hope is, the more gift ideas we all share, the easier it will be to discover and give amazing gifts!
Our Top 3 Favorite Hiking Gifts In This List:
Exofficio Underwear – because come on, when was the last time he got (awesome) new underwear?
Good-to-Go Meals – perfect for any backpacker who wants to spend less time prepping and more time enjoying hiking trips
Merino Wool Base Layers – great synthetic layers for camping, backpacking or hiking
Here are 10 hiking gift ideas for him
A warm, hard shell jacket. If he doesn't already have a good quality winter coat, check out this North Face jacket from REI, I stick with REI because they have some of the best customer service and return policy out there. This coat is perfect because it has a lighter weight, puffy coat on the inside, with a waterproof breathable shell on the inside.  The two layers can be worn separately, or together in harsh weather.
This post may contain affiliate links for your convenience, see my full disclosure for more info.
Good hiking socks. I know they aren't the cheapest, but they're the best. socks. ever. Once I tried Fits Socks, I never went back. That's all I wear every day now, not just for hiking. They actually fit all the curves and contours of your feet, toes and heels so the sock doesn't slip and slide around or slide down in your boots. If he hikes regularly, chances are he burns through a couple pairs of socks a year and could use some new ones.
Hiking books or ebooks. I recommend Hiking Through by Paul Stutzman, an inspiring story about one man's journey on the Appalachian Trail after losing his wife to cancer. And A Walk in the Woods by Bill Bryson, people either love or hate this book, I love it. You just have to think of it more as a comedic interpretation of the Appalachian Trail rather than a practical how-to guide.
A Serac hammock. Anyone who spends time in the woods will appreciate a hammock to chill out in, either on day hikes or to camp out in on backpacking trips. All Serac hammocks come with straps and carabiners, so he'll be able to set it up right away. If he'll be camping out in it, you'll want to get the bug net and rain fly too! Don't forget to use coupon code ADVENTURE15 for 15% off the entire Serac site.
An outdoorsy tshirt, or a few. Who doesn't love some fresh, new clothes to lounge about in? And if your guy is anything like mine, he has way too many old, ratty t-shirts with holes and stains all over them. Maybe gifting some new ones will push those old ones to the back of the closet, or dare I say, the trash. (A girl can hope, right?)
Merino wool long sleeved shirt. Yes, I know, Merino Wool is more expensive – but it's worth it! It's light weight, warm, and the best part is it doesn't hold on to hiker stink like other synthetic materials do. These are the perfect base layer for chilly nights.
Folding Z-seat. Or a butt pad, as I call them.  This is the one piece of gear that I never knew I needed until I picked one up in a hiker box on the Appalachian Trail in 2013 and haven't hiked without it since! Backpackers lead a simple life out on the trail, and having one of these seats is such a treat to not have to sit on a cold rock, or a wet log during your hiking breaks. While it's not a necessary piece of gear, at only 2 ounces, it's well worth its weight!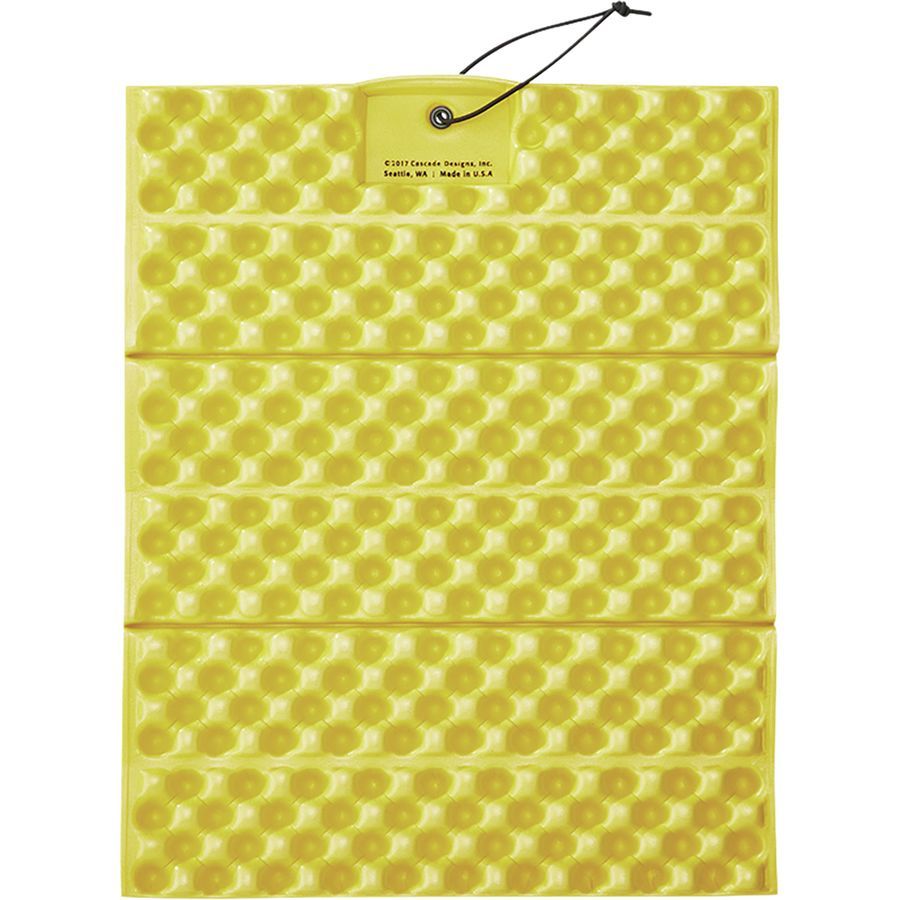 Good To-Go Backpacking Meals. Good To-Go meals are the healthy, convenient food of the backpacking world, it saves you from planning, preparing and portioning out every meal, and you can just add hot water to the pouch which means no pots to clean! I don't recommend long-distance hikers plan on these for every meal, but they are a nice treat every once in a while, or awesome for easy meals on a short weekend-long backpacking trip.
Body Glide. There aren't too many hikers I know who don't deal with chaffing on one body part or another. The prevention and sweet relief of painful chaffing can be a life saver out on the trail.
ExOfficio Underwear. He's going to want comfy, quick drying underwear while he's out hiking and ExOfficio consistently comes up as backpacker's favorite underwear. Another perk – anti-microbial treatment greatly reduces odor held in the fabric.
When you're shopping for gifts, try to give him something he will actually use and love, that won't end up being stuffed away in the closet never to be seen again. It's also always a great idea to include a gift receipt, just in case.
With my husband, just giving the gift receipt isn't enough, I also really have to encourage him to return it if he doesn't like it or it doesn't fit. I learned earl on in our marriage that he thought he was it was rude to return gifts – but I really want him to have things he actually likes, even if it means returning my gift.
So make sure to reiterate that with your loved one and promise not to get offended if they won't use whatever you gave them 😉
Feel free to share any other hiking gift ideas you have in the comments below.
For more hiking gift ideas and resources, check out:
Hiking Gift Ideas For Men